Beleef de grote verscheidenheid van de mooiste deelstaat van Oostenrijk.
Actief & Familie met de SalzburgerLand Card
Radstadt is een ideale uitvalsbasis om de talrijke bezienswaardigheden en natuur van het SalzburgerLand te bezoeken en te verkennen. Met de inclusieve SalzburgerLand Card heb je gratis toegang tot meer dan 190 attracties, zowel in Radstadt als omgeving – waaronder talrijke meren & zwembaden, kastelen & burchten, natuurbelevingen, kabelbanen en nog veel meer.
Periode
Je kunt kiezen uit 3 seizoenen:
A: 16.05.2020 tot 05.06.2020 & 05.09.2020 tot 19.09.2020

B: 06.06.2020 tot 03.07.2020 & 22.08.2020 tot 04.09.2020

C: 04.07.2020 tot 21.08.2020

Diensten
7x overnachting in accommodatie naar keuze
7x uitgebreid ontbijt c.q. ontbijtbuffet in accommodatie naar keuze (m.u.v. vakantiewoningen!)
7x 3-gangen diner à la carte, inclusief 1 drankje als dine around in een van de geselecteerde restaurants in Radstadt of in je accommodatie (bij boeking in de categorieën Inns & guesthouses hotels en standard/premium).
6-daagse SalzburgerLand Card: Gratis en voor het grootste deel onbeperkt toegang tot meer dan 190 bezienswaardigheden in het SalzburgerLand. Optioneel inbegrepen: De 24-uur-Salzburg-Card of gratis met de auto over de Großglockner Hochalpenstraße.
Alle voordelen van de Salzburger Sportwelt Card Radstadt (gastenkaart), zoals:

Meer dan 20% korting in de Erlebnis-Therme Amadé (Salzburg Card c.q. dagkaart)
1-Euro-wandelbus naar de Rossbrand en de Salzburger Sportwelt
10% korting op de wandeluitrusting bij sportwinkel Klieber
10% korting op fietsverhuur bij Intersport Rappl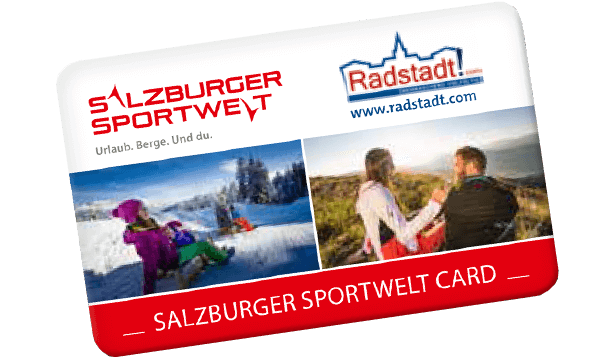 Opmerking: Dit arrangement wordt georganiseerd door Tourismusverband Radstadt KöR en is daarom alleen te boeken via Radstadt Tourismus! Zie de tabel voor een overzicht van de deelnemende bedrijven. Klik op de gewenste categorie en zoek je droomaccommodatie!
Prijs per persoon
incl. alle heffingen in EUR*
A:
16.05.2020 tot 05.06.2020 &
05.09.2020 tot 19.09.2020
B:
06.06.2020 tot 03.07.2020 &
22.08.2020 tot 04.09.2020
C:
04.07.2020 tot 21.08.2020
Private rooms & apartments standard

359,-
375,-
395,-
Private rooms & apartments premium

369,-
385,-
405,-
Inns & guesthouses

409,-
435,-
459,-
Hotels standard

439,-
469,-
505,-
Hotels premium

519,-
559,-
609,-
Toeslag eenpersoonskamer:
30% van de kamerprijs
Kinderkortingen:
(alleen geldig op de kamer van de ouders vanaf twee betalende volwassenen)
Tot 4 jaar: € 80,-
Van 4 tot 6 jaar € 120,-
Van 6 tot 15 jaar 50% korting
Van 12 tot 15 jaar € 60,- toeslag
Volwassenen:
(alleen bij boekingen van "vakantiewoningen")
€ 70,- korting p.p. vanaf de 4e gast
*De lokale heffing (toeristenbelasting) van € 1,30 p.p.p.n. is niet bij de totaalprijs inbegrepen en dient ter plaatse te worden voldaan. Deze toeristenbelasting geldt voor iedereen van 15 jaar en ouder.