Pure Skiing pleasure
Skipackage - 4 or 7 nights
The Skipackage combines skiing & accommodation – all in one! Enjoy an almost unlimited choice of ski slopes. The 3 or 6-day ski pass for the Ski amadé region is included in the package and provides access to 760 kilometres of slopes and 270 ultra-modern ski lifts. Come to Radstadt – the home of winter!
Periods
18.01. till 11.04.2021
Package BENEFITS included
4 or 7x nights

in the accommodation of your choice

4 or 7x extended breakfast / buffet breakfast

in the accommodation of your choice (no breakfast in apartments!)

3 or 6-day ski pass for the Ski amadé region with 760 kilometres of slopes
All the benefits of the Salzburger Sportwelt Card Radstadt (guest card) - such as:

Over 20% discount on the Therme Amadé spa and water world for a 4-hour or 1-day ticket

Free travel on the Radstadt Ski bus

Discount for evening sledging on the Königslehen toboggan run in Radstadt

10% off ski and ski-boot rentals at Sport Pichler and Intersport Rappl & Flory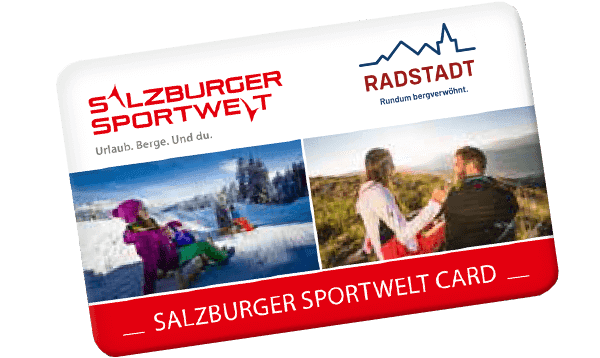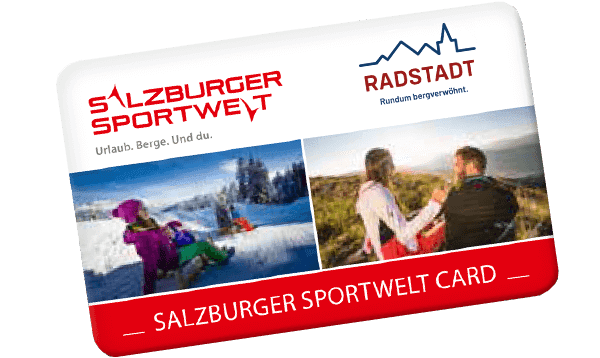 Please note, the tour operator offering this package is Tourismusverband Radstadt (KöR). As a result, the offer can only be obtained from Radstadt Tourism!
Package price per person
including all taxes/duties in EUR*

4 nights

7 nights


from 265,-
from 436,-
Private rooms & apartments premium
from 276,-
from 455,-
from 308,-
from 506,-
Hotels standard
from 336,-
from 549,-
Hotels premium
from 386,-
from 629,-
Single room supplement:
on request
Discounts for children:
(only valid in the parents' room with at least 2 full-fee-paying guests)
on request
* The visitor's tax of € 1.30 per person and night is not included in the total price and must be paid to the host on site. Everyone aged 15 or over is subject to this visitor's tax (children till 14 years are exempted).
After the contact form has been submitted, the aforementioned information will be processed by the company which bears responsibility for complying with data privacy regulations, including Tourismusverband Radstadt, Stadtplatz 17, A-5550 Radstadt, Tel. +43 6452 7472, for purposes of processing your request, with your expressed consent indicated by submission of the form. The information will be further processed for purposes of direct advertising, which is commensurate with the original processing purpose, and upon the same legal foundation, until rescinded. There exists no legal or contractual obligation to provide personally identifiable information. The only consequence of not providing information will be that you are not able to transmit your request and we will be unable to process such a request. Such information will not be shared with other recipients. You have the right to revoke your consent in writing at any time, which shall not affect the legitimacy of our having processed said information until such time as consent is revoked. You have the right to revoke your consent to the use of your personally identifiable information for purposes of direct advertising in writing at any time. In the event of revocation, your personally identifiable information will no longer be processed for purposes of direct advertising. You have the right to information about, as well as correction, deletion, restriction of processing and transferability of your personally identifiable data, as well as the right to lodge complaints with the oversight authorities (Austrian Office of Data Protection, Barichgasse 40-42, A-1030 Vienna, dsb@dsb.gv.at).