Walk, talk, eat & sleep along the Salzburg Almenweg peaks route
The almenweg peaks tour - 5 nights
The Salzburger Almenweg peaks tour is a 350-km hiking route from the Tennengebirge chain to the Tauern massif and on to the Dachstein. Highlights of the tour include an evening and overnight stay at the Südwienerhütte and Oberhütte mountain hut on Lake Oberhüttensee, a panoramoic view from the Rossbrand mountain taking in 150 alpine peaks, and the highest altitude lake in the Eastern Alps – Tappenkarsee. You sleep 3 times in Radstadt and 2 times in mountain huts (Südwienerhütte and Oberhütte). When you stay overnight in the mountain hut there is no need to take all your baggage with you. At no extra charge, for the duration of your booking, you can leave everything you don't need in your accommodation in Radstadt. Another benefit of this offer is the opportunity to plan your tour flexibly. If you're feeling tired or the weather's not good - there's no obligation to complete the whole hike. Apart from the stages with an overnight stay on the mountain, it's up to you to pick and choose your stages; and if you prefer, why not check out the things to see and do in the region, such as Fortress Hohenwerfen (30 km), Eisriesenwelt ice caves (30 km), the Liechtensteinklamm gorge (30 km), the Dachstein glacier (30 km), the Salzbergwerk salt mine (50 km) and the city of Salzburg (70 km).
Route
stage 18: Zauchensee - Gnadenalm - Südwiener Hütte
stage 19: Südwiener Hütte - Obertauern - Oberhütte
stage 20: Oberhütte - Forstau - Radstadt
stage 21: Radstadt - Filzmoos
Periods
Choose from these 3 periods:
A:

02.09.2023 until 17.09.2023

B:

10.06.2023 until 01.07.2023 & 19.08.2023 until 02.09.2023

C:

01.07.2023 until 19.08.2023
Arrivals on Saturday - Tuesday only!
Package benefits included
3x nights

in the accommodation of your choice

3x

extended breakfast / buffet breakfast

in the accommodation of your choice (no breakfast in apartments!)

3x

à la carte evening meal

in the Dine Around deal in

over 20 selected restaurants

in Radstadt

1x overnight stay (half board) in the Südwienerhütte mountain hut

1x overnight stay

(half board) in the Oberhütte mountain hut

Panorama hiking map of Radstadt and the surrounding area

Alpine hut sleeping bag

Silver Salzburg Almenweg trekking badge

Gold Radstadt trekking badge

Radstadt binoculars
All the benefits of the Salzburger Sportwelt Card Radstadt (guest card) - such as:

Over 20% discount on the Therme Amadé spa and water world for a 4-hour or 1-day ticket
1-Euro Wander bus up to the Rossbrand mountain and around the Salzburger Sportwelt region
10% discount off hiking equipment at the Klieber sports shop
10% discount off bicycles rented from Intersport Rappl
Radstadt outdoor alpine swimming pool free entry
Minigolf in Radstadt free entry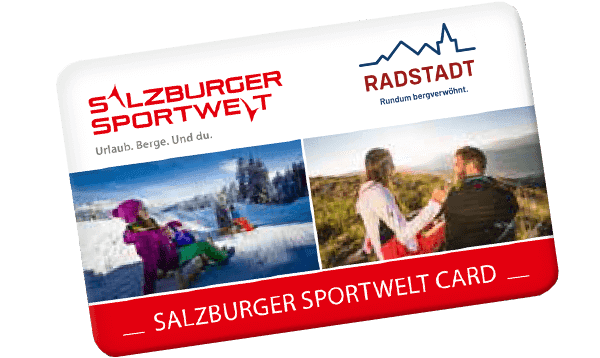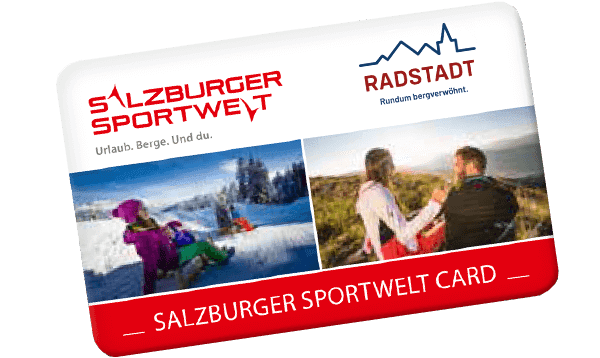 Please note, the tour operator offering this package is Tourismusverband Radstadt (KöR). As a result, the offer can only be obtained from Radstadt Tourism! The table contains an overview of the participating businesses. Click on your preferred category and choose the accommodation you require.


A:
02.09.2023 until 17.09.2023

B:
10.06.2023 until 01.07.2023 &
19.08.2023 until 02.09.2023

C:
01.07.2023 until 19.08.2023

Private rooms & apartments standard

337,-
348,-
362,-
Private rooms & apartments premium

342,-
353,-
367,-
Inns & guesthouses

371,-
390,-
412,-
Hotels

458,-
493,-
527,-
Single room supplement:

30% of the room price

Discounts for children:
(only valid in the parents' room with at least 2 full-fee-paying guests)

on request!

* The visitor's tax of € 1.90 per person and night is not included in the total price and must be paid to the host on site. Everyone aged 15 or over is subject to this visitor's tax (children till 14 years are exempted).