Golf Instruction for beginners and advanced players
Alpine Golf - 4 nights
Radstadt golf course is a uniquely beautiful place for players. On one side there's a view of the Radstädter Tauern mountain chain with their rugged peaks. On the other are the snow-covered slopes of Mount Dachstein. These stunning alpine surroundings, between the forests and the historical town, form the backdrop for beginners and advanced players at the Radstadt Golf Academy as they pick up all the necessary tricks of the trade in customised golf lessons. On just the second day of their lessons in Radstadt beginners get to try out their skills and first swings on the 'real' 9-hole academy course as they fall for the charms and fascination of golf.
Period
Choose from these 3 periods:
A: 13.05.2023 until 03.06.2023 & 02.09.2023 until 01.10.2023
B: 03.06.2023 until 01.07.2023 & 19.08.2023 until 02.09.2023
C: 01.07.2023 until 19.08.2023
Arrivals on Sunday & Monday only!
Package benefits included
4x nights in the accommodation of your choice
4x extended breakfast / buffet breakfast in the accommodation of your choice (no breakfast in apartments!)
4x à la carte evening meal in the Dine Around deal in over 20 selected restaurants in Radstadt
3-day basic golf course for beginners or a 3-day advanced course for experienced players
All the benefits of the Salzburger Sportwelt Card Radstadt (guest card) - such as:

Over 20% discount on the Therme Amadé spa and water world for a 4-hour or 1-day ticket
1-Euro Wander bus up to the Rossbrand mountain and around the Salzburger Sportwelt region
10% discount off hiking equipment at the Klieber sports shop
10% discount off bicycles rented from Intersport Rappl
Radstadt outdoor alpine swimming pool free entry
Minigolf in Radstadt free entry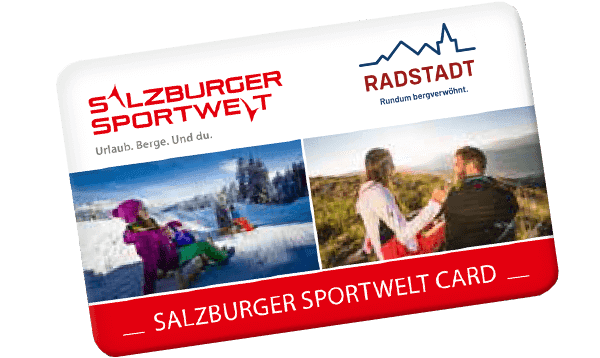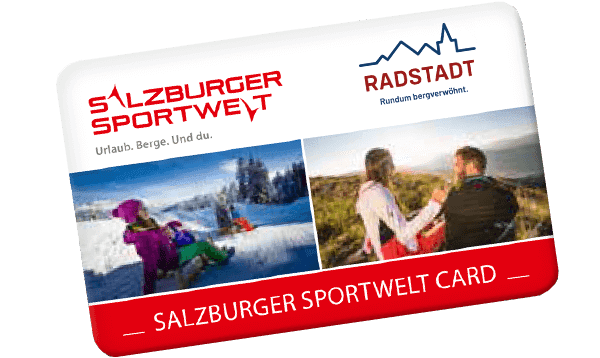 Please note, the tour operator offering this package is Tourismusverband Radstadt (KöR). As a result, the offer can only be obtained from Radstadt Tourism! The table contains an overview of the participating businesses. Click on your preferred category and choose the accommodation you require.
Package price per person
including all taxes/duties in EUR*
A:
13.05.2023 until 03.06.2023 &
02.09.2023 until 01.10.2023
B:
03.06.2023 until 01.07.2023 &
19.08.2023 until 02.09.2023
C:
01.07.2023 until 19.08.2023
Private rooms & apartments standard
563,-
574,-
588,-
Private rooms & apartments premium
567,-
579,-
593,-
Inns & guesthouses
597,-
615,-
638,-
Hotels
684,-
718,-
753,-
Single room supplement:
30% of the room price
Discounts for children:
(only valid in the parents' room with at least 2 full-fee-paying guests)
on request!
* The visitor's tax of € 1.90 per person and night is not included in the total price and must be paid to the host on site. Everyone aged 15 or over is subject to this visitor's tax (children till 14 years are exempted).